Here are some great kids' Christmas songs for 2015!
Let's Jump with Joy
A bouncy fun easy song, aimed at younger children, singing about four scenes from the Christmas Story: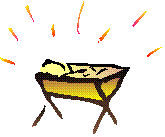 Mary hearing she's having God's Son
(Luke 1:26-38)
Mary & Joseph travelling to Bethlehem
(Luke 2:1-7)
The Shepherds visiting Jesus (Luke 2:8-20)
The Wise Men visiting Jesus (Matthew 2:1-12)
It's designed for actions / motions, and so there's lots of jumping, walking, waving and bowing!
Here are the links: Listen on the Jukebox :: Get the MP3 files :: Get PDF Sheet Music :: Get "Let's Jump with Joy" on a Christmas CD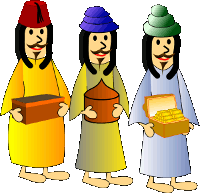 Go-Go-Go-Go Gold!
This one's for children aged 3-11 ish, and with a sense of humour!
It's all about the Wise Men, and the gifts they're going to present to Jesus, from Matthew 2:1-12. It's easy to pick up, and fun to sing and do actions to. A Cuddly Camel even gets a look-in!
Here are the links: Listen on the Jukebox :: Get the MP3 files :: Get PDF Sheet Music :: Get "Go-Go-Go-G0 Gold" on a Christmas CD