Simple Nativity Play for ages 3-11
Nativity Play
Words from the Good News Translation, © American Bible Society
Adapted by Clare Heath-Whyte
With songs from maynardsgroovytunes.co.uk
Introduction
This is a simple Nativity Play, designed to be the central part of an All-Age event, such as a "Family Carol Service". Surround it with some Carols, some prayers, and a short Bible talk about the Good News of Jesus, and you've got your service! It's tried and tested, and takes only a couple of rehearsals to set up. Hope you can use it!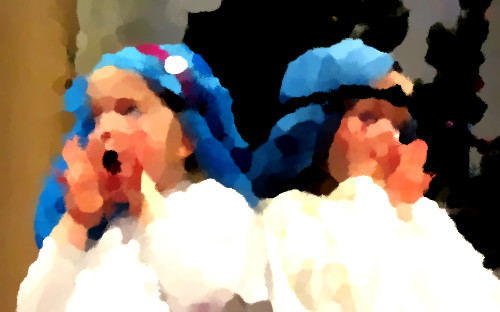 Summary
The Bible events are narrated and acted out in 4 scenes, with children coming together to sing songs between each scene. The play is fairly simple, with most speaking done by one or more Narrators, who should be older children or young people who can cope with the amount of speaking. Younger children can take the other parts, which have only small (and memorable) amounts of speaking.
The information on this site is also in this pdf file available from Maynard's Groovy Bible Tunes: Simple Nativity Play PDF
Props
A Manger
Baby Doll for Jesus
Bethlehem sign on pole
Star on pole
Table & Chair for Registrar
Chairs for Mary & Joseph
Cast
Mary(s), Joseph, Angel(s)
Emperor Augustus, Travellers, Registrar, Innkeeper
Shepherds, Sheep
Wise Men, Herod, Jerusalem Officials
Songs
These are all available on the Maynard's Groovy Bible Tunes website. Sheet Music can be obtained for free, and MP3 tracks with either the vocals or as instrumental backing are also available at low cost.
| | | | | | |
| --- | --- | --- | --- | --- | --- |
| Song Name | Notes | When? | Listen online | Downloads | Video |
| I'm an Angel, Ooh | All about the surprise and shock of seeing an Angel – with a verse each for Mary and Joseph (and the Shepherds) | After scene 1 | | |   |
| Hush! There's a baby… | A popular song that is both quiet and noisy about the excitement of the special baby Jesus being born | After scene 2 | | | |
| Let's Go, Let's Go | A bouncy song about the Shepherds hearing about Jesus and then going to visit him | After scene 3 | | | |
| Go-go-go-go Gold! | Frank – who? Frankincense! And all the other bits of the Wise Men's story. | (Optional) After scene 4 | | | |
All the songs are on the excellent "Jump With Joy! Christmas Compilation" CD, which you can get from the MGBT store, and is also on iTunes, Google Play, and Amazon.
This entry was posted by
David
and filed under
Children's Bible Songs
,
Christmas
.