Crib Service plan for Christmas Eve, with an idea that's simple but brilliant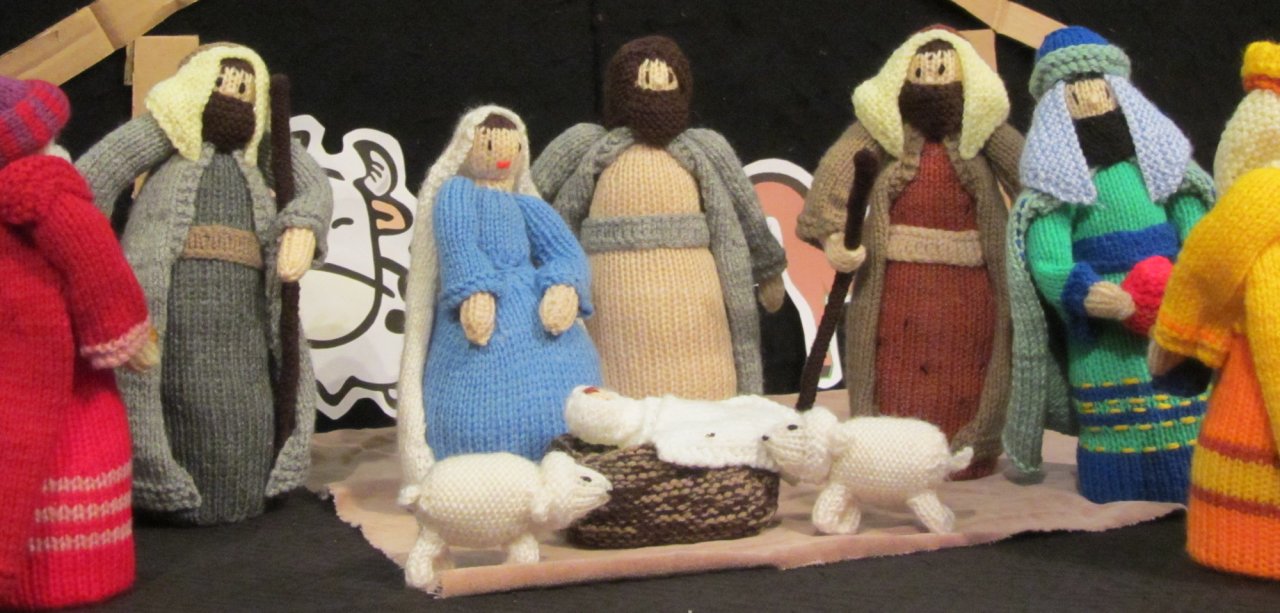 In the UK, 4pm on Christmas Eve is a great time to hold a "Crib Service" in a church. 
Everyone is feeling Christmassy, parents are home from work, the great day is nearly here, but families are running out of things to do with their kids. A Crib Service gives families with small children something to go out to and enjoy for an hour or so before bed time (haha) - and it gives churches a lovely way of engaging with families and helping them to think about Jesus our Saviour and what lies behind all the celebrations.
Here's an idea for a simple way of having a Crib service. It should last about 40 minutes or so, and is aimed at 0-5s and their families and friends.
Here's what you'll need:
a knitted nativity set, or some other nativity set (with Mary, Joseph, Baby Jesus in a crib, Shepherds, Sheep, Wise Men, Angels)
a stable for the nativity set to go in
a big box of chocolates (Celebrations, Quality St, that sort of thing).
Optional: 
portable video camera if your church is wired for vision
The idea
The nativity set is wrapped up as a pass-the-parcel, and passed around the congregation while music plays. Each time the music stops, the next character is revealed, a short bible passage is read, a short explanation made, the character is placed in the stable, maybe a verse or two of a carol is sung, and then the pass-the parcel continues.
Meanwhile (and this is VERY important), the big box of chocs goes the OTHER way around the congregation, and everyone is allowed to take one. This helps slightly to diminish the disappointment of children who don't get to unwrap the parcel.
Once you've got the stable all finished, do a short children's talk to explain to everyone that this really happened, and Jesus is the one who saves us, and God with us. Offer them the opportunity to follow that up with your kids club, Sunday School, Christianity Explored course etc.
Songs
Maynard's Groovy Bible Tunes have a lovely simple song "Let's Jump with Joy" which has a verse for each stage of the story:
1. Let's jump with joy 
for that little boy 
is going to be the Saviour 
of the whole wide world! 
Jumping... (x4) 
Jumping with joy 
for the Christmas Boy. 

2. Let's walk the road 
with Mary's heavy load, 
she's going to have her 
baby in Bethlehem! 
Walking... (x4) 
Walking the road 
with Mary's heavy load. 

3. Let's wave our arms 
with the Shepherds from the farms, 
on the hills where the 
Angels sang to them! 
Waving... (x4) 
Waving our arms 
with the Shepherds from the farms. 

4. Let's bow right down 
'cos the Wise Men have found 
the baby who will be 
the King of everyone! 
Bowing... (x4) 
Bowing right down 
to the King they have found.
By David Heath-Whyte, Copyright © 2012 Maynard's Groovy Bible Tunes www.maynardsgroovytunes.co.uk
Click here for the downloads for that song - there's a package with MP3 files and a powerpoint of the words which might be helpful - click here
Helpful hints
Wrap a wise man first, then another, and another, then a shepherd / sheep.... and finally Mary or an Angel as the outside layer (to be unwrapped first).
Keep the bible readings and explanations short - yes you want to communicate the Good News with everyone, but it's amazing how quickly the kids get restless when the action stops!
If you've got video, point a camera at the stable, the kids love to see it up on the screen
More information
This entry was posted by
David
and filed under
Children's Bible Songs
,
Christmas
.