Pentecost for a Kids' Club

A class / session for a Childrens' Club, ages 3-6 (UK Foundation + KS1)
Memory Verse: John 14v16
Aim: to share the story of Pentecost, and explain the Holy Spirit's role in helping people to hear about Jesus 
We did this at our "HotShots PLUS" club, and it went down really well...
Jump to: Teaching Slot, Craft, Games
Teaching Slot
Intro: Remember Easter?!
To get the ball rolling, ask the children if they can remember what they did at Easter.
Remind the children of the Easter events - get them to tell you what happened. If they know about the Ascension, let them tell you about that, otherwise mention it briefly.
Song: So this is how...
To help us think about Easter, this song focusses on the cross as where we see God's love (1 John 4:9-10), and also talks about the Resurrection and what it means for us today.
Get the song from Maynard's Groovy Bible Tunes: Listen, Downloads/CD
Think about: Jesus' promise, John 14v16
Get them to think about what it would be like for Jesus' friends without him! eg: "Once Jesus had gone back to heaven, he wasn't there - how do you think Jesus' friends would feel without him?"
Explain that it's OK, because the night before Jesus died, he made a promise to his friends.
Read them John 14v15-17 (our focus is on v16)
Jesus promised that when he went back to heaven they wouldn't be on their own, but that they would have God with them. "God with them" would be the Holy Spirit, whom Jesus called "the Helper" (ESV / GNB ).
Let's see how that happened...
Puppet Time: Saying "Hello!"
Don't be scared by puppets - no-one looks at your lips once the puppet's talking. Or you can do "cuddly toy whispers in my ear" puppetry: "Oh, what's that teddy? [put teddy by your ear] Oh, you want the children to sing a song? [put teddy by your ear] but you want them to do it standing on their heads?..."
Puppet asks the children to say "hello" to him. Then he asks if they can do it in any different languages. Here you might need to do some homework on the internet. You might even be able to find some recordings that they can copy.
Puppet explains that Jesus wanted his friends to talk to lots of people about him. But if you want to talk to lots of people, you need to speak lots of languages - and when the Holy Spirit came, that's what God helped them to do.
Bible Story: Acts 2:1-12
Tell the story, getting the children to act out bits - like the noise when the Spirit came, use a hand to be the flame above their heads, and get them to say "hello" in lots of languages for v6.
I'd suggest reading to v8, then explaining that lots of people were there from lots of different countries with funny names.
Reinforce / Explain:
Bring the threads together:
Jesus had promised the Holy Spirit
Now they weren't alone, God the Holy Spirit was with them
Jesus wanted them to tell the world about him
They spoke in lots of languages to show that the Spirit had come, and so that lots of people could understand about Jesus
God the Holy Spirit is with us too, just as Jesus promised. He might not enable us to speak in different languages, but he still helps us to trust Jesus and share Him with others
You can use questions to help the children to get these points. Eg: "Can anyone remember what Jesus promised his friends?" etc
Song: John 14v16 Yeah!
We finished with this. It is a memory verse 'rap', with some background music. There are parts for a leader and for everyone else. We learnt it first and then did it to the backing track. The kids got it really easily.
Get the song from Maynard's Groovy Bible Tunes: Listen, Downloads/CD
Two other Holy Spirit songs you could use are:
O Holy Spirit: Listen, Download / CD
Put it on (the full Armour of God): Listen, Download / CD
Craft
Pentecost Tongues-of-Fire Headband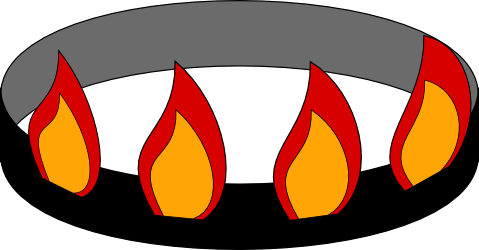 The headband is made from card, stapled or stuck to fit.
The flames are coloured paper, glue on.
Pentecost Trumpet (or Windsock)

The tube is rolled cardboard, the 'flames' are cellophane, or tissue paper, or just coloured paper.
You can find the windsock idea on google. We found that by shrinking the tube, the children could blow through it to move the flames. It also made a good rushing sound...
Games
Parachute Story
Get everyone under the chute (with the chute under their bottoms) as you talk about the disciples inside the house.
Then get outside the chute, and make big waves to make a lot of rushing sound.
Then float the chute up and all let go at once (ha ha) for tongues of fire!
Share the Message Relay
Relay race, but instead of passing a baton, they say "Jesus is the Saviour of the World" to the next person
Tell the World Corners
Because the HS was helping the disciples to go to the ends of the world. Give each corner of the room a country, perhaps one that you learnt to say "hello" for earlier. Shout out a country, or "hello" in that language, and the children run to that corner. If you want to be competitive, the last one there can be 'out'.
This entry was posted by
David
and filed under
Children's Bible Songs
,
Easter
,
Pentecost
.