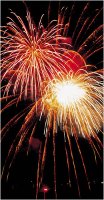 At various times during the year, Christians like to zoom in on special events in Jesus' life, and important celebrations in the church's life.
Of course, Christmas and Easter are the biggest and best festivals, celebrating Jesus' birth, and then his amazing death and resurrection for us. Another favourite is Harvest, when we say "Thank you!" to God for his wonderful provision of food.
At these times, its great to have special songs for children to sing in church, or in their Sunday schools and clubs, midweek clubs and school assemblies. We all need songs for kids that are based on the Bible and take it seriously, while still being great fun to sing and memorable. We need songs that can be part of a church's worship together, as well as being enjoyable to sing in the car on the way home. That's what we've got here - not so many you'll be confused, but just enough great songs to help you out.
All the songs are available in a variety of forms  - Sheet Music in PDF format, as MP3 downloads (both full tracks and backing tracks), and on good-old audio CDs.